Reclaim your mornings with the Mindful Morning Self-Care Box. Every morning is an opportunity for a new beginning. This self-care box is designed to help you create a morning routine that sets the tone for an inspired day, every day.
Let your mind roam freely on the recycled pages of our favourite VENT for Change notebook. Use this simple daily ritual to check in with your body and mind, set mindful intentions and notice the emotions that rise to the surface. And while you do,  sip on a cup of TeaPigs EveryDay Brew, made just the way you like it.

For those looking for a thoughtful gift for a loved one, this self-care box would be perfect.
Mindful Morning Self-Care Box includes the following products.
•VENT for Change Earth Recycled Lined Notebook (Size A5)
•Royal Doulton Grande Porcelain Mug 560ml
•TeaPigs Breakfast Tea - Everyday Brew (15 tea temples/15 servings)
Personalised gift cards are complimentary and available as an option with all orders. Please leave a note at checkout under 'Add note to your order'.
Customer Reviews
23/02/2021
Amy

United Kingdom
The perfect way to start my day
This self-care box gives me so much joy in the morning. Love to start my day with these lovely eco-friendly products from small businesses. Also love the idea behind the brand! Thank you!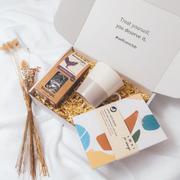 25/03/2021
The Sun & My Soul
Thank you for your feedback, Amy. We really appreciate your kind words.
09/02/2021
D J.

United Kingdom
The Perfect Pick me Up for our Team
Excellent products that brought so much joy and such great customer service. Thank you so much and can't wait to shop here again!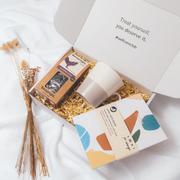 25/03/2021
The Sun & My Soul
Thank you so much for your kind words. We really appreciate you taking the time out to share your experience with us. We count ourselves lucky for customers like you. We look forward to working with you again in the future!